From August – November, pumpkin spice literally takes over everything. I kid you not, I spotted pumpkin spice shampoo the other week. Pumpkin spice… SHAMPOO?! Am I the only one who thinks that's weird? I guess I just don't want my hair smelling like pumpkin pie.
That being said, I prefer my pumpkin spice in basic form. Treats like pumpkin cake, pumpkin cookies, pumpkin spiced apple cider donuts, and… pumpkin swirl brownies!!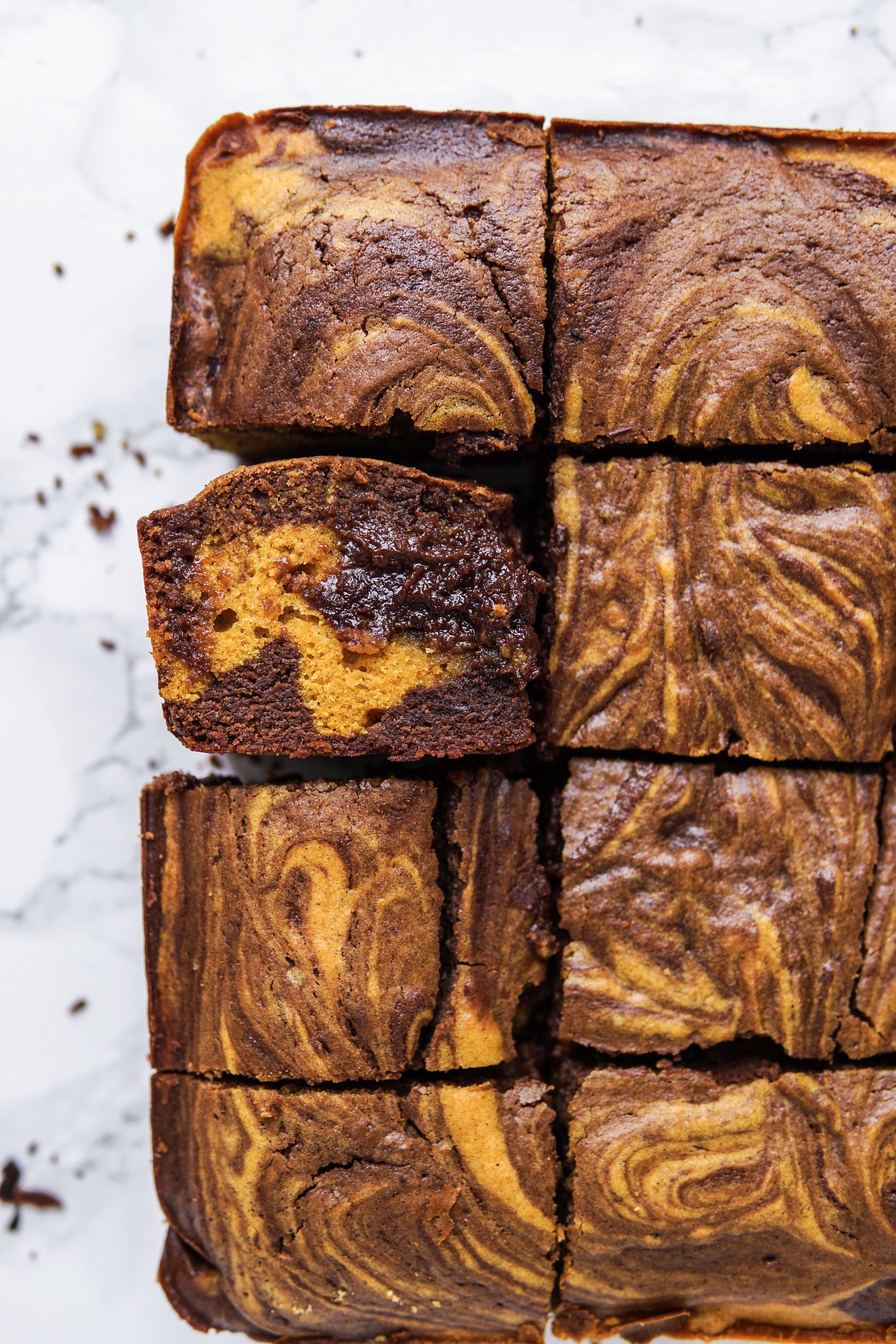 I know what you're thinking… another brownie recipe?!
HEAR ME OUT.
You simply can't beat brownies… especially these. Within five minutes of baking, my entire house smelled of warm chocolatey bliss… and with the addition of pumpkin in this recipe, it's fall meets chocolate (aka HEAVEN). So you seriously can't go wrong!
Whether you sneak a few for yourself and give away the rest, or hog the whole pan, you are going to LOVE these festive fall brownies. The creamy pumpkin swirl takes a typical chocolate brownie from delicious to melt in your mouth good. They taste like Thanksgiving and Christmas and Halloween all rolled into one. It's festive and bold, yet easy enough to make as an every day treat.
Have I sold you yet?!
---
Pumpkin Swirl Brownies
Prep time: 15 mins
Cook time: 45 mins
Total time: 60 mins
*Recipe adapted from Martha Stewart
Ingredients
½ cup (one stick) of unsalted butter, plus more for pan

6 ounces bittersweet chocolate, chopped or ¾ cup semi-sweet chocolate chips

¼ cup cocoa powder

1 teaspoon espresso powder (optional)

2 cups all-purpose flour

1 teaspoon baking powder

½ teaspoon salt

1½ cups sugar

4 large eggs

1 tablespoon pure vanilla extract

1¼ cups pumpkin puree

¼ cup vegetable oil

1 teaspoon ground cinnamon

¼ teaspoon ground nutmeg
Instructions
Position a rack in the middle of the oven and preheat to 350°F. Grease an 8×8-inch (or 9×9-inch) dark metal pan with softened butter, then line with parchment paper, leaving overhang on all sides. Grease the parchment with softened butter.

Combine the chopped chocolate, cocoa powder, and espresso powder in a heatproof liquid measuring cup or medium bowl and set aside.

Add the butter to a small saucepan over medium heat and cook until the butter just comes to a vigorous simmer, about 5 minutes, swirling the pan occasionally. Immediately pour the hot butter over the chocolate mixture and let sit for 2 minutes. Whisk until the chocolate is completely smooth and melted, then set aside.

Whisk together flour, baking powder, and salt in a large bowl, then set aside.

Put sugar, eggs, and vanilla in the bowl of a stand mixer fitted with the paddle attachment (a hand mixer also works); beat until fluffy and well combined, 3 to 5 minutes. Beat in flour mixture.

Divide batter in half between two medium bowls. Working quickly so the batters don't set, stir in pumpkin, oil, cinnamon, and nutmeg into one of the bowls. Stir chocolate mixture into the other. Transfer half of chocolate batter to prepared pan smoothing top with a rubber spatula. Top with half of pumpkin batter. Repeat to make one more chocolate layer and one more pumpkin layer.

With a small spatula or butter knife, gently swirl the two batters to create a marbled effect.

Bake until set, 40 to 45 minutes. Let cool in pan on a wire rack, then cut into squares.

ENJOY!
---