When it comes to desserts, I tend to gravitate more towards fruity flavored things rather than chocolate. I mean… I like chocolate IN things but I don't like strictly chocolate flavored things. Does that make any sense at all?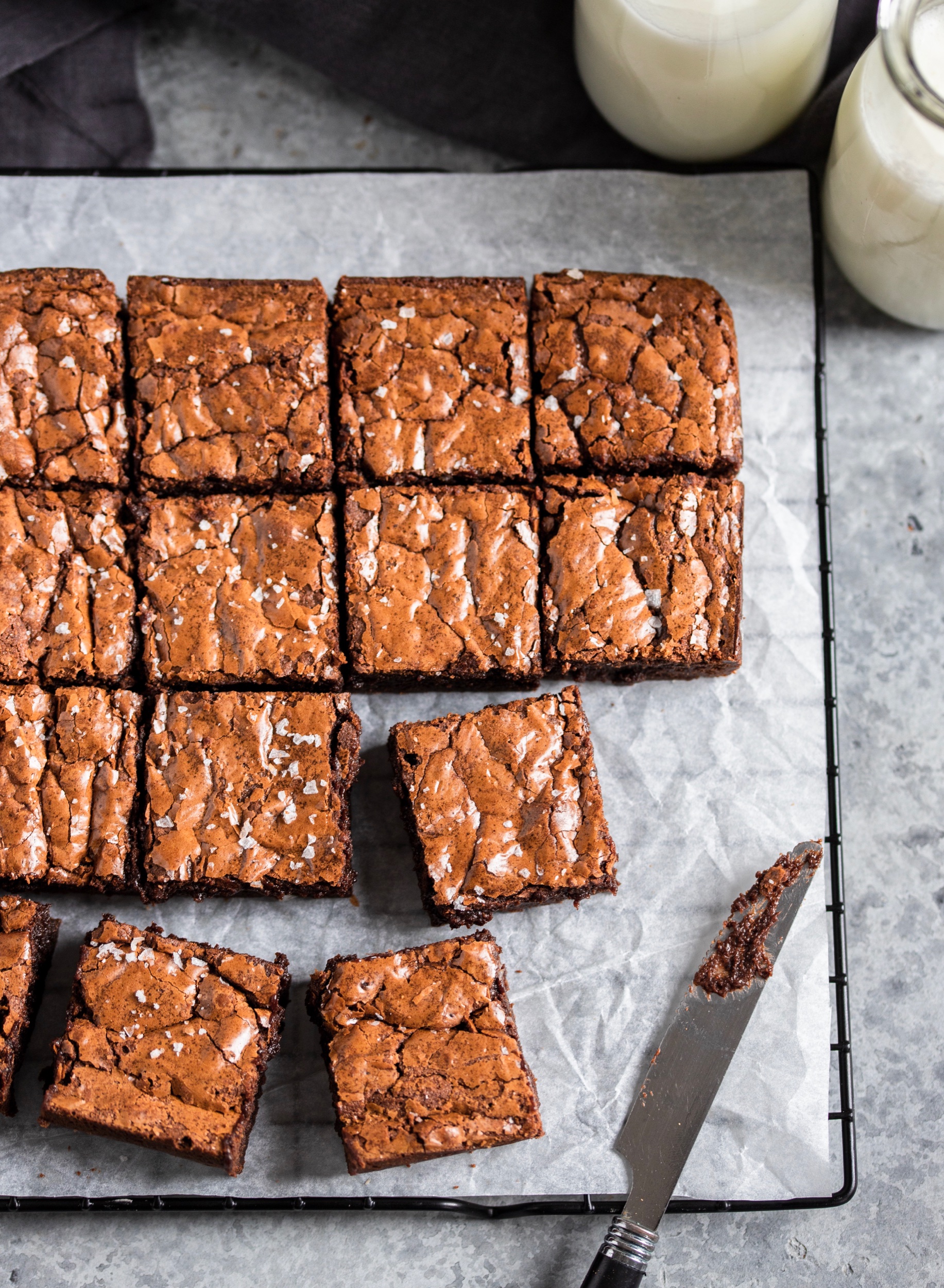 One exception to all of that, however, is brownies. I have a total soft spot in my heart for brownies (especialllly fudge brownies). They remind me of growing up because we used to keep a box of brownie mix in the pantry and made them on the regular. I admit to loving boxed brownies even to this day; pretty sure I have a box or two in my pantry right now actually…
Honestly though, how could you NOT be all about box mix brownies?! They're simple and easy and basically always delicious… but I have a thing for homemade treats obvi and so homemade ultimate fudge brownies were at the top of my list for awhile.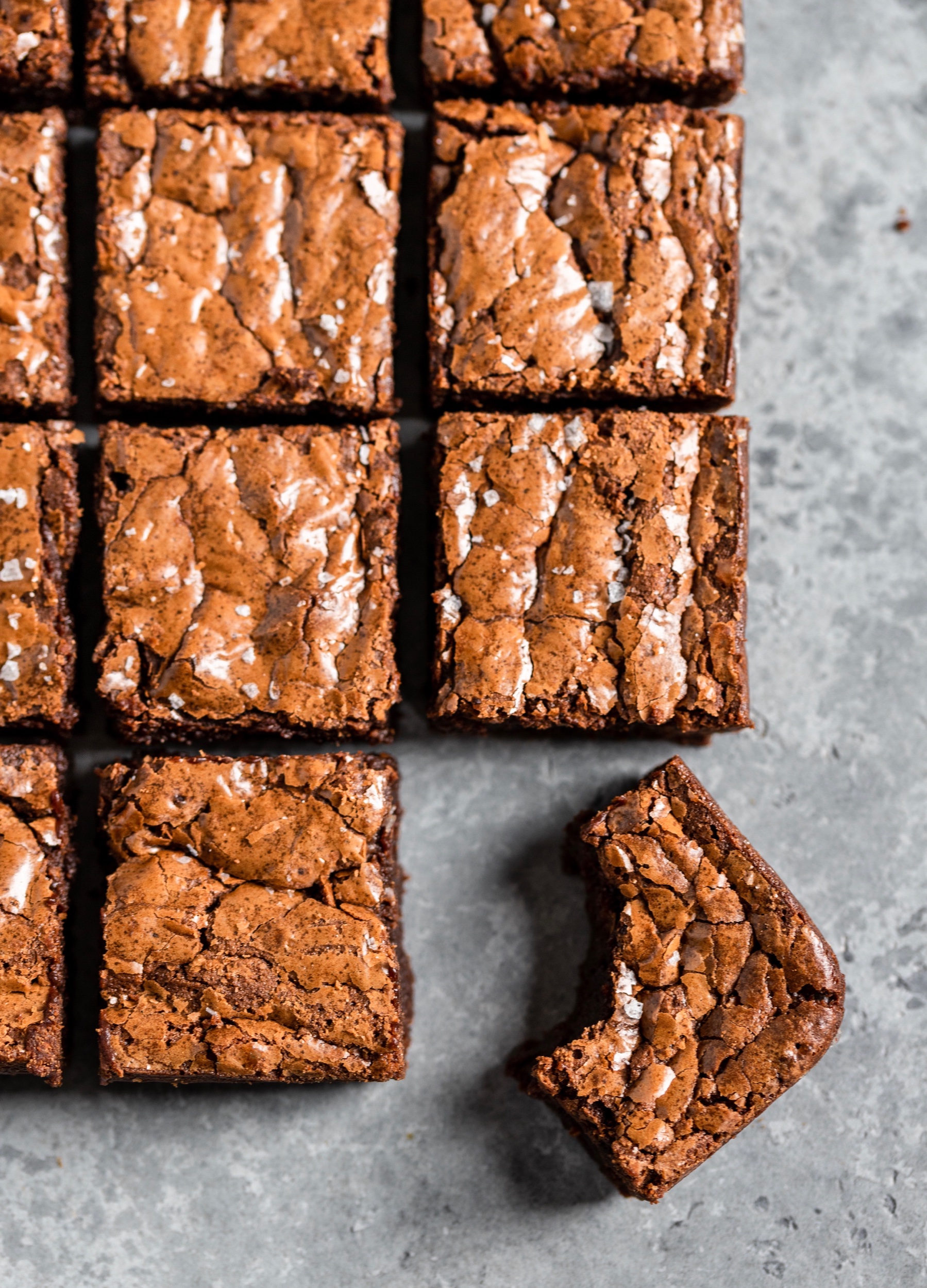 If you google "ultimate fudge brownies" there are millions of search results… I definitely don't recommend doing this if you're hungry. I've thrown quite a few brownie recipes out there myself, however none that provided that box mix-esque fudginess that we all know and love.
So often, ultimate fudge brownie recipes are disappointing (at least all the ones I've tried)… but I'm here to change your views on that. Those ultimate "fudge" brownies that are drier than the Sahara desert in summertime? Never again. Brownies that are too sweet OR not sweet enough? No thanks. And brownies that are described as "chewy" but taste like chocolate cake? Later dude. It's time to say goodbye to mediocre brownies and HELLO to the most amazing, ultimate fudge brownies ever.
I don't like throwing around 'best' and 'ultimate' all the time since I know brownie recipes can be subjective, of course. I don't want to step on your Grandma Edna's recipe, or your favorite boxed mix, but for me personally, this is my new favorite.
These ultimate fudge brownies are a little fussier than a box mix, but you'll quickly see that they're easy enough and you'll be making these on the regular after you try them. I promise.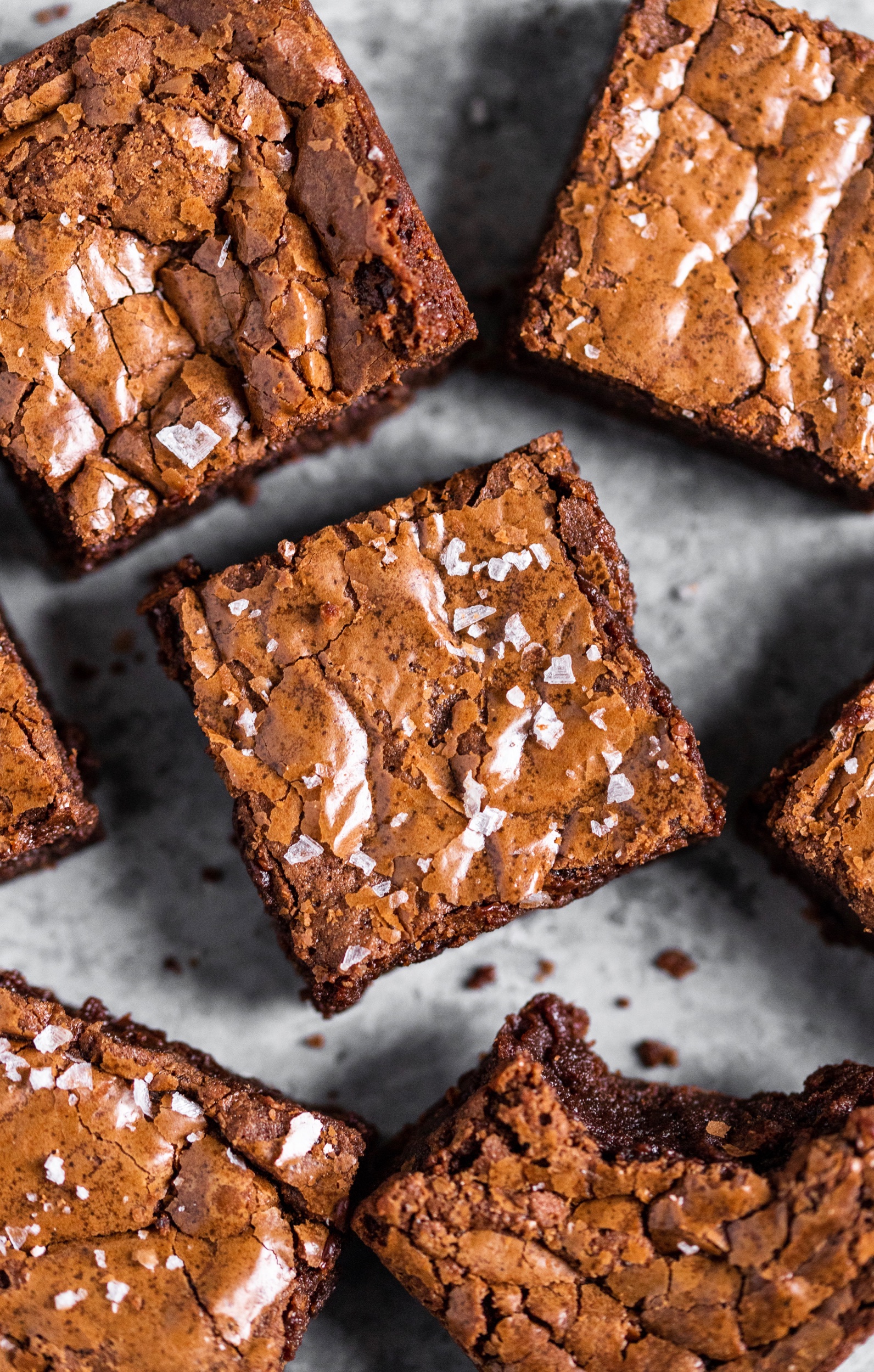 If you like your brownie recipe to be fudgy and super chocolatey, well then, these ultimate fudge brownies were made for you. Give em a try and let me know what you think!
Print Recipe
Ultimate Fudge Brownies
Extreme fudge alert! These ultimate fudge brownies are rich, chocolatey, and dense! They're the ultimate chocolate lovers brownie!


Ingredients
1

cup

unsalted butter

4

oz

dark chocolate

chopped (70% cacao)

6

tbsp

cocoa powder

divided

2

tsp

espresso powder

¾

cup

granulated sugar

½

cup

dark brown sugar

2

tsp

vanilla extract

1

tsp

coarse sea salt

3

large eggs

½

cup

all-purpose flour
Instructions
Grease an 8×8-inch pan with butter, then line with parchment paper, leaving overhang on all sides. Grease the parchment with butter, then set aside.



Combine the chopped chocolate, espresso powder, and 2 tablespoons (15 g) of cocoa powder in a medium heatproof bowl and set aside.



Add the butter to a small saucepan over medium heat and cook until the butter just comes to a vigorous simmer, stirring often. Immediately pour the hot butter over the chocolate mixture and let sit for 2 minutes. Whisk until the chocolate is completely smooth and melted, then set aside.



Preheat oven to preheat to 350°F.



In the bowl of a stand mixer fitted with the whisk attachment, or using an electric hand mixer, whisk together the granulated sugar, brown sugar, vanilla extract, salt, and eggs for exactly 10 minutes.



With the mixer on, pour in the slightly cooled chocolate mixture and mix until smooth.



Sift in the flour and remaining cocoa powder and use a rubber spatula to gently fold until just combined.



Pour the batter into the prepared baking pan and smooth the top with a spatula. Bake for 20 minutes and then remove the pan from the oven and slam them on a flat surface 2-3 times (this deflates them slightly, giving them a more even texture and encourages that beautiful crackly top). Return to the oven and bake until a wooden skewer inserted into the center of the brownies comes out fudgy but the edges look cooked through, about 10 additional minutes. The center of the brownies will seem underbaked, but the brownies will continue to set as they cool.



Allow brownies to cool completely in the pan.



Use the parchment paper to lift the cooled brownies out of the pan. Cut into 16 bars and serve. Enjoy!


Nutrition
Calories:
239
kcal
|
Carbohydrates:
24
g
|
Protein:
3
g
|
Fat:
16
g
|
Saturated Fat:
9
g
|
Cholesterol:
61
mg
|
Sodium:
163
mg
|
Potassium:
114
mg
|
Fiber:
2
g
|
Sugar:
18
g
|
Calcium:
21
mg
|
Iron:
1
mg