If you've been with me for awhile, you know that I'm a french macaron lover. I love making them and I love eating them.
I've posted two macaron recipes already (this being the third), and I have SO many more I want to share with you. But since this isn't a blog solely devoted to macarons, I have to pace myself. Or maybe I don't. Maybe you love macarons as much as I do and there's no such thing as too much. You tell me…
Anyways… growing up, Fruity Pebbles was always one of my absolute favorite and go-to cereals of choice; and it still kind of is… I mean who can resist those little pebbles (if you can call them that) of heaven. They are crunchy, fruity (read: sugary), and absolutely delicious.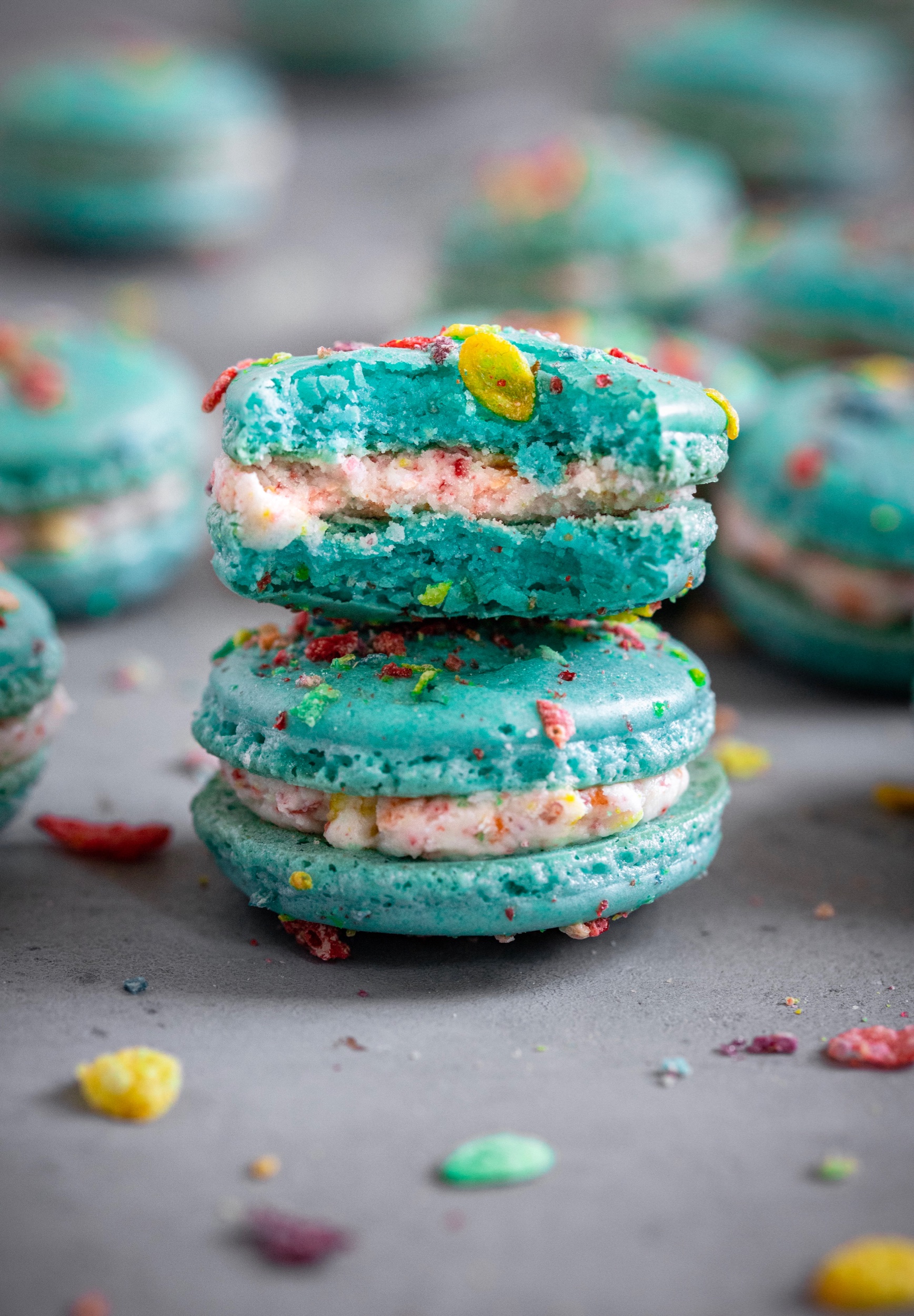 If you're not a Fruity Pebbles fan (and if so, I don't even wanna knoooow you exist), you can substitute any kind of cereal in its place. Cap'N Crunch? Check! Lucky Charms? Yup! Cinnamon Toast Crunch? Totally! (& yes, I've made them and they were unreal!) Really, whatever cereal you have on hand should work… as long as it doesn't have nasty ass raisins in it.
(Seriously… what is the point of cereal if it isn't brightly colored, fruity flavored, or filled with marshmallows? ISSA NO FROM ME DAWG.)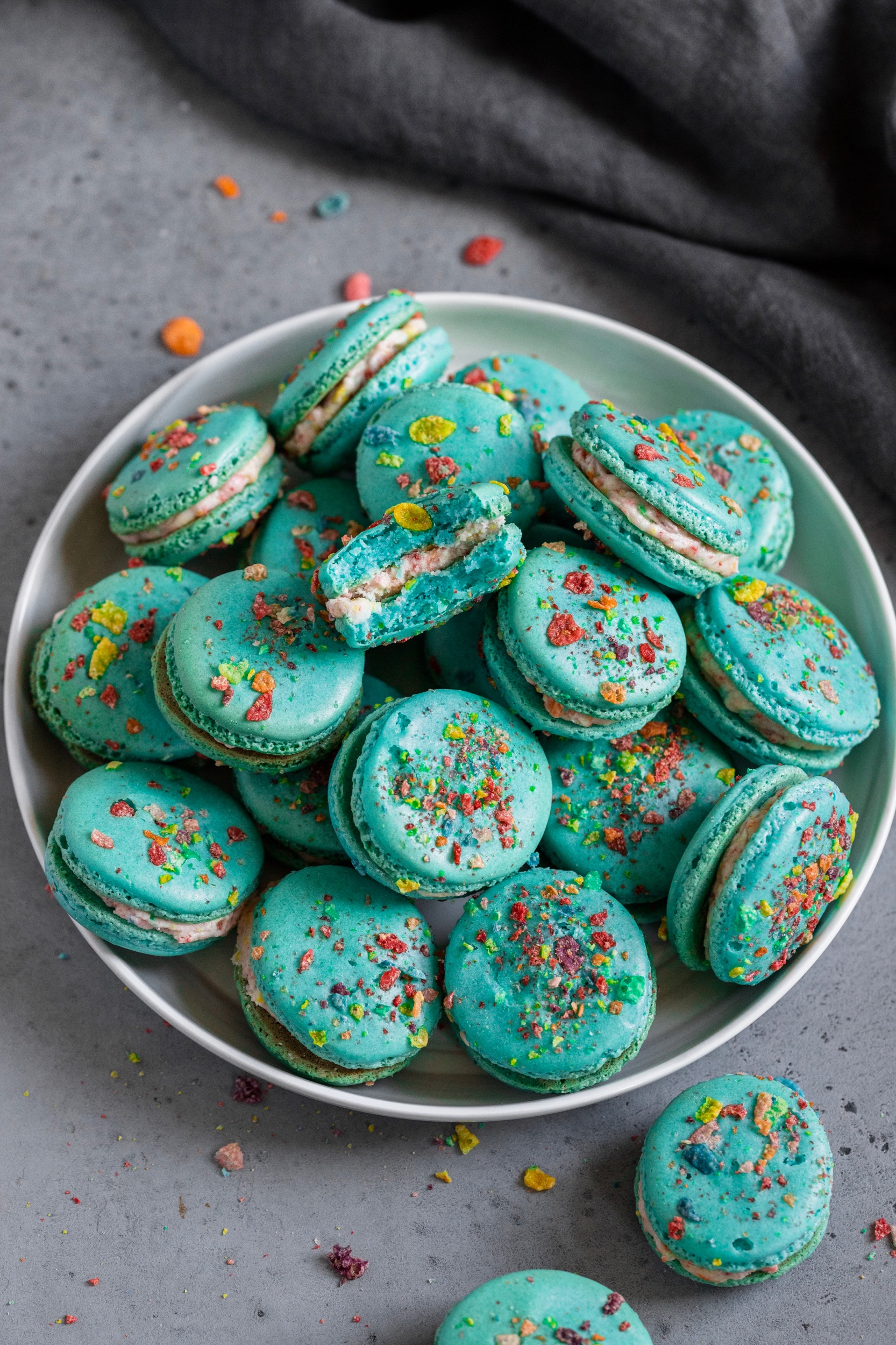 Now, get this recipe for Fruity Pebbles Macarons pinned, then let's get baking, because, dude, these are SO DELICIOUS… you have to try them.
---
Fruity Pebbles Macarons
These Fruity Pebbles macarons are a fun twist on the classic french macaron and taste like you're taking a bite out of a bowl of fruity pebbles.


Ingredients
For the Macarons:
100

grams

egg whites (approx. 3 large eggs)

at room temperature

90

grams

granulated sugar

¼

tsp

cream of tartar

125

grams

almond flour

125

grams

powdered sugar

Teal gel food coloring (do NOT use liquid coloring)

¼

cup

Fruity Pebbles

crushed
For the Fruity Pebbles Buttercream Filling:
4

tbsp

unsalted butter

softened

2

cups

powdered sugar

¼

cup

Fruity Pebbles

crushed

1-2

tbsp

almond milk
Instructions
In a medium bowl, sift together the almond flour and powdered sugar, then set aside.



In the bowl of a stand mixer fitted with the whisk attachment, or using an electric hand mixer, beat the egg whites on medium speed until nice and foamy. Add cream of tartar and continue to beat until your whisk begins leaving visible trails in the foamy egg whites.



Once you can see trails, gradually add the granulated sugar making sure each addition is fully incorporated before adding the next. Increase the speed to medium high and beat until soft peaks form. Soft peaks = the egg whites falling back into itself slightly when the whisk is pulled out.



Add teal gel food coloring, then beat on medium-high speed until stiff peaks form. Stiff peaks = your meringue should be clumping inside your whisk and your egg whites should stand up straight once the whisk is pulled out. (Be sure not to over-whip your egg whites otherwise you risk drying them out which will cause problems down the line).



Add sifted dry ingredients to meringue and fold (don't stir) with a rubber spatula from the bottom of the bowl upward then press the flat side of your spatula through the middle (also known as macaronage). This technique when done properly will ensure that the air bubbles that you beat into your egg whites don't all deflate when incorporated with the dry ingredients. You're looking to beat out some of the air that was created in the whipping of the egg whites, but not so much that it's fully deflated and prevents your macarons' signature feet from developing. The batter will look very thick at first, but it will get thinner as you fold. Repeat the folding until batter gets to a lava-like consistency (the figure 8 test is a great way to check your consistency; pick up the batter and let it flow down while drawing the figure "8". If it can do that, immediately stop folding) This video is a great resource to see both how to macaronage and what your batter consistency should look like.



Pipe out 1.5-inch rounds about an inch apart on two baking sheets lined with parchment paper. (Feel free to print out a macaron template if you're worried about size/uniformity).



Tap the baking sheets firmly on the counter a few times to get rid of any air bubbles. Then sprinkle the crushed Fruity Pebbles on the tops of each of the macarons. (If you don't release the air bubbles, they will expand during baking and crack the tops of your beautiful macaron shells.)



Let the macarons rest and dry for 30 minutes or until a skin has developed; on a humid day, it might take an hour or more. To see if it's ready to be baked, lightly touch it. If the batter doesn't stick to your finger, then it's ready. (Don't forget to remove the macaron templates, if using, before baking!)



Preheat the oven to 300°F. (Place an oven thermometer inside the oven to ensure that the temperature is correct). Bake the macarons one tray at a time for 16-18 minutes.



Allow macarons to cool. If the bottoms are a tiny bit sticky, keep them on the tray to cool off for about 10-15 min. If the bottoms are already brown, they peel off cleanly, or appear over-baked however, carefully take them off the tray immediately to cool down. It's always better to over- rather than under-bake your macarons as the maturation process can typically salvage ones that are over-baked.



While macarons are drying and baking, prepare the Fruity Pebbles buttercream filling. Beat the butter until light and fluffy. Add powdered sugar, milk, and crushed Fruity Pebbles, and beat until well combined.



Transfer the filling into a pastry bag and fill the macarons, then gently sandwich together.


Notes
Macarons are best enjoyed the next day after they mature in the fridge (since the flavors will be absorbed into the shell). If your shell is hard/crunchy/over-baked, letting them mature will also cause the shells to absorb the moisture from the filling and soften up / give them their signature chewy texture. Store the filled macarons in an airtight container in the fridge for up to 5 days and bring back to room temperature before enjoying.
Nutrition
Calories:
126
kcal
|
Carbohydrates:
21
g
|
Protein:
2
g
|
Fat:
5
g
|
Saturated Fat:
1
g
|
Cholesterol:
5
mg
|
Sodium:
14
mg
|
Potassium:
12
mg
|
Fiber:
1
g
|
Sugar:
19
g
|
Vitamin C:
1
mg
|
Calcium:
12
mg
|
Iron:
1
mg
---
MikeBakesNYC LLC owns the copyright on all images and text and does not allow for its original recipes and pictures to be reproduced anywhere other than at this website unless authorization is given. If you enjoyed the recipe and would like to publish it on your site, please re-write it in your own words, and link back to my site and recipe page. Read my Disclosure page. This post may contain affiliate links.