I love a good pie.
But who doesn't, really?
My favorite thing about pie? The crust.
I know… some of you are probably shaking your heads thinking "but the filling is the best part!". And I like pie filling, I really do. But the honest truth is that the pie crust is what I come to the table for. I'll even tell you a deep, dark, shameful secret: despite my love of pie crust, I'm not a pie crust snob.
Whether it's a super buttery, flaky homemade crust, or the refrigerated pie crusts you find rolled up at your local grocery store, I have no problem scraping the filling out of the pie entirely, smothering the crust in vanilla ice cream, and going to town. That being said, I can assure you that you'll eat every last bite of this pie because it is DELICIOUS.
As far as the filling is concerned… I've found that cornstarch makes the best fruit pie filling. I've tried flour but I find it never solidifies enough, often leaving a very wet/soggy crust. And tapioca starch (another popular thickening option) can act funny at times, and can give a bit of a mucus-y texture to pies (sorry, there's no other way to describe it). The cornstarch was absolutely perfect in this pie; I've decided that it'll be my go-to in fruity pie fillings, from here on out.
Besides cornstarch, I use dark brown sugar and add some lemon juice for brightness. Plus, lemon and blueberry go really well together.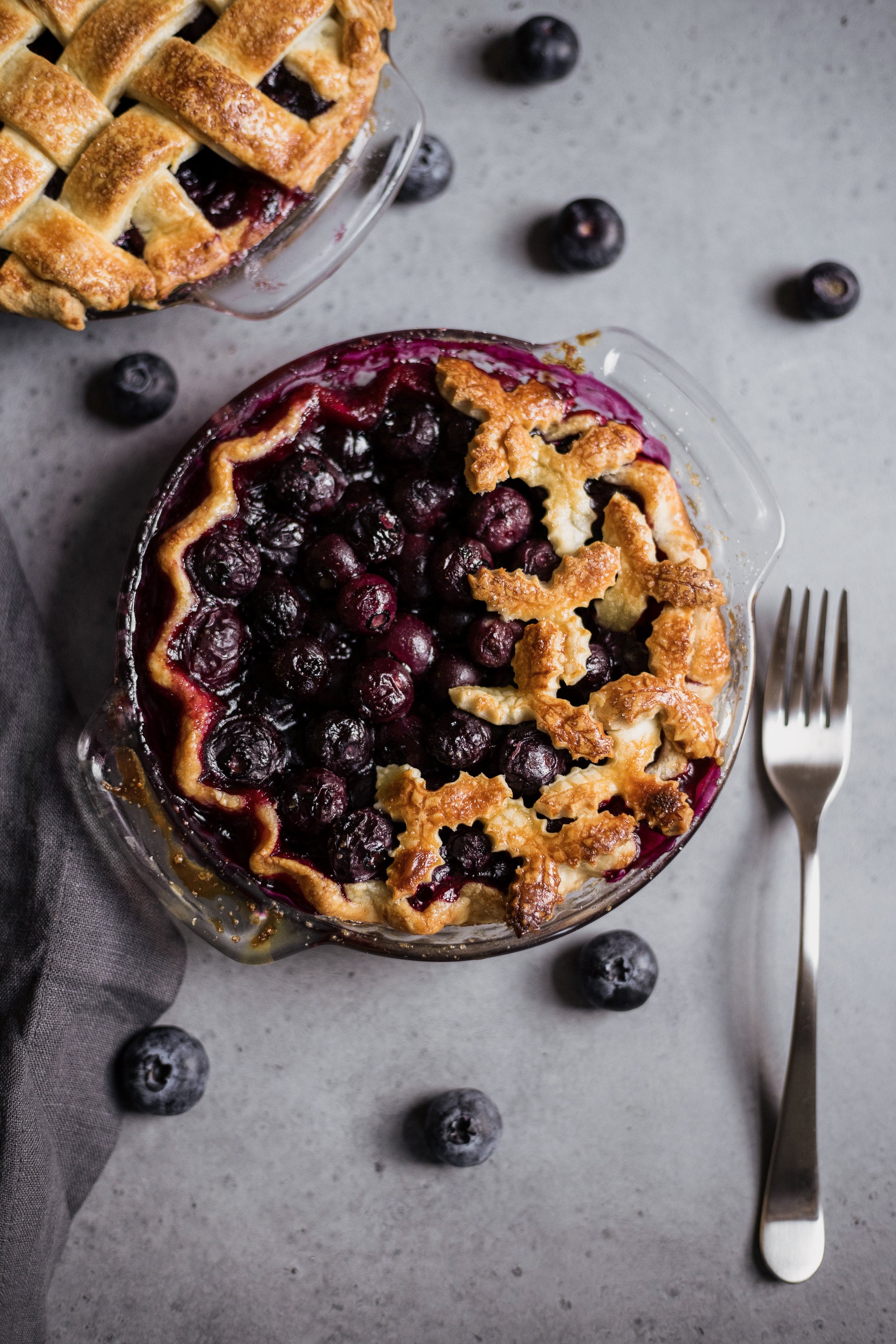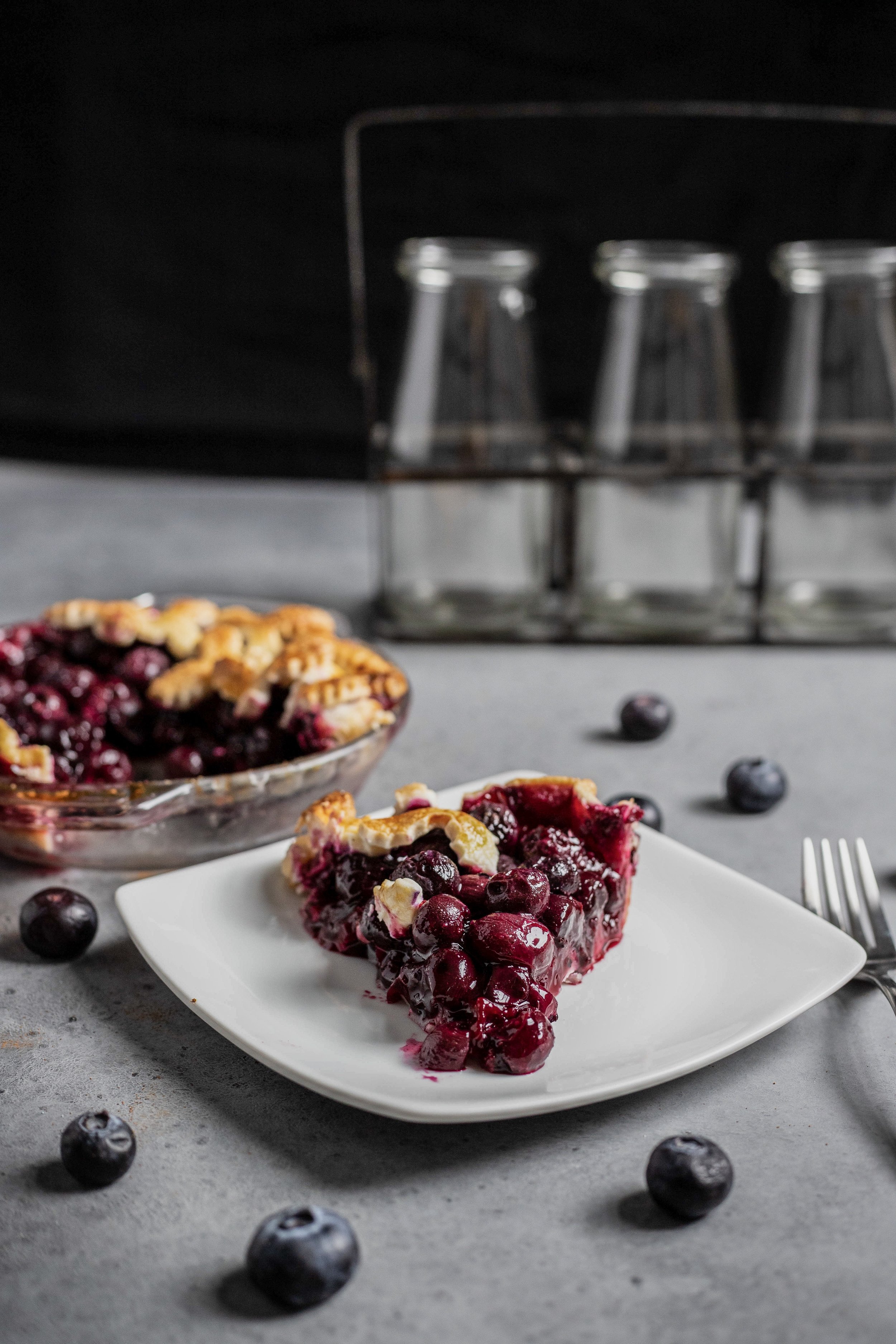 You'll love this pie's flavor! No secret ingredients and nothing to take away from the fruit's fresh flavor. Just simple, fresh, old-fashioned homemade pie goodness.
As always, read the recipe before beginning and keep an eye out for the next recipe! ? Have fun and get cooking!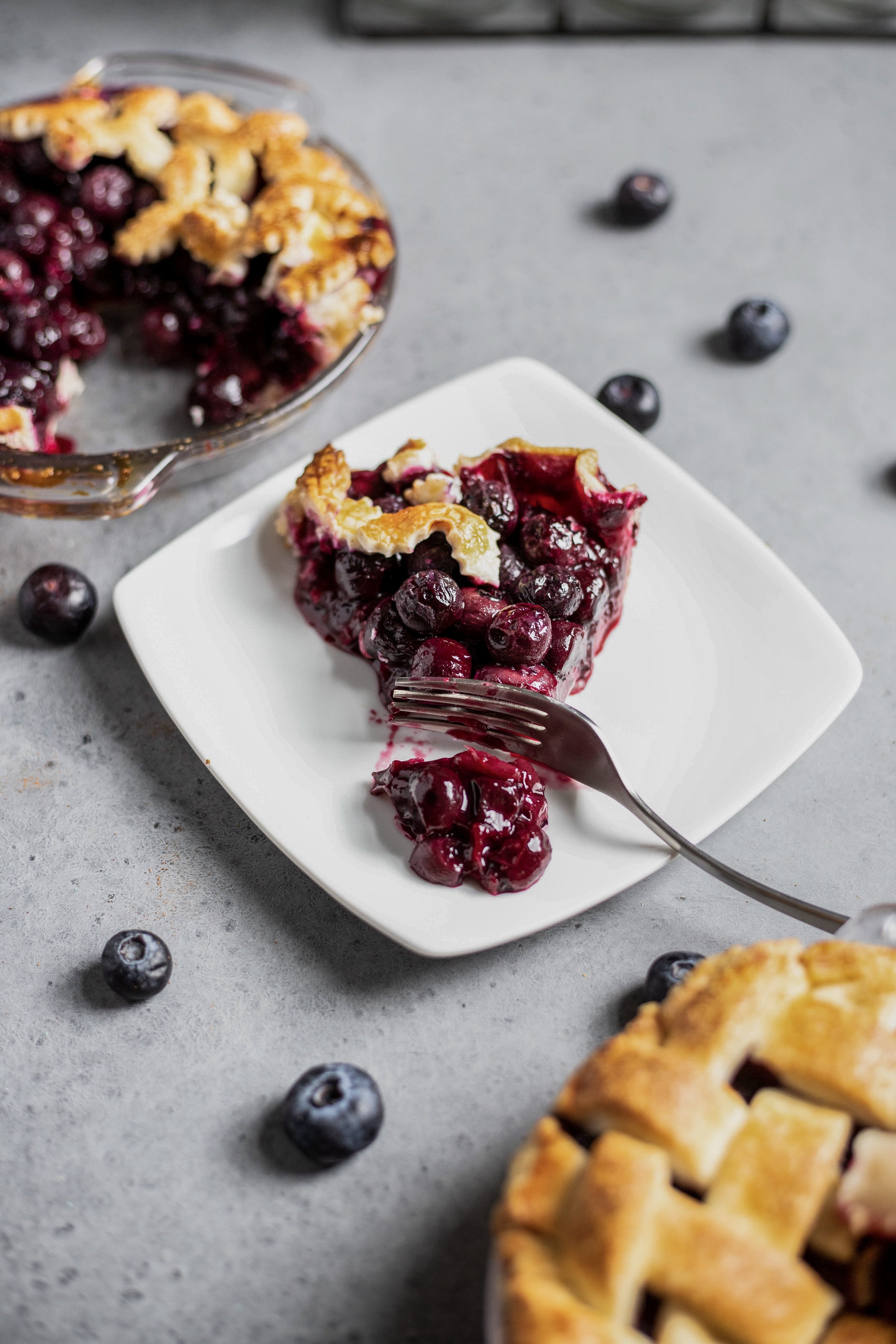 BAKING HACK:
A mixture of flour and sugar sprinkled on the bottom of the pie crust under the filling  will  stop your pie filling from being soggy or too liquid-y by soaking up the excess liquid and turning into a thick, glossy sauce! This technique is great for pie fillings that contain a lot of fresh, uncooked fruit. Also, topping your filling with a spoonful of sugar before baking will give you a glossy finish.
---
Mini Blueberry Pies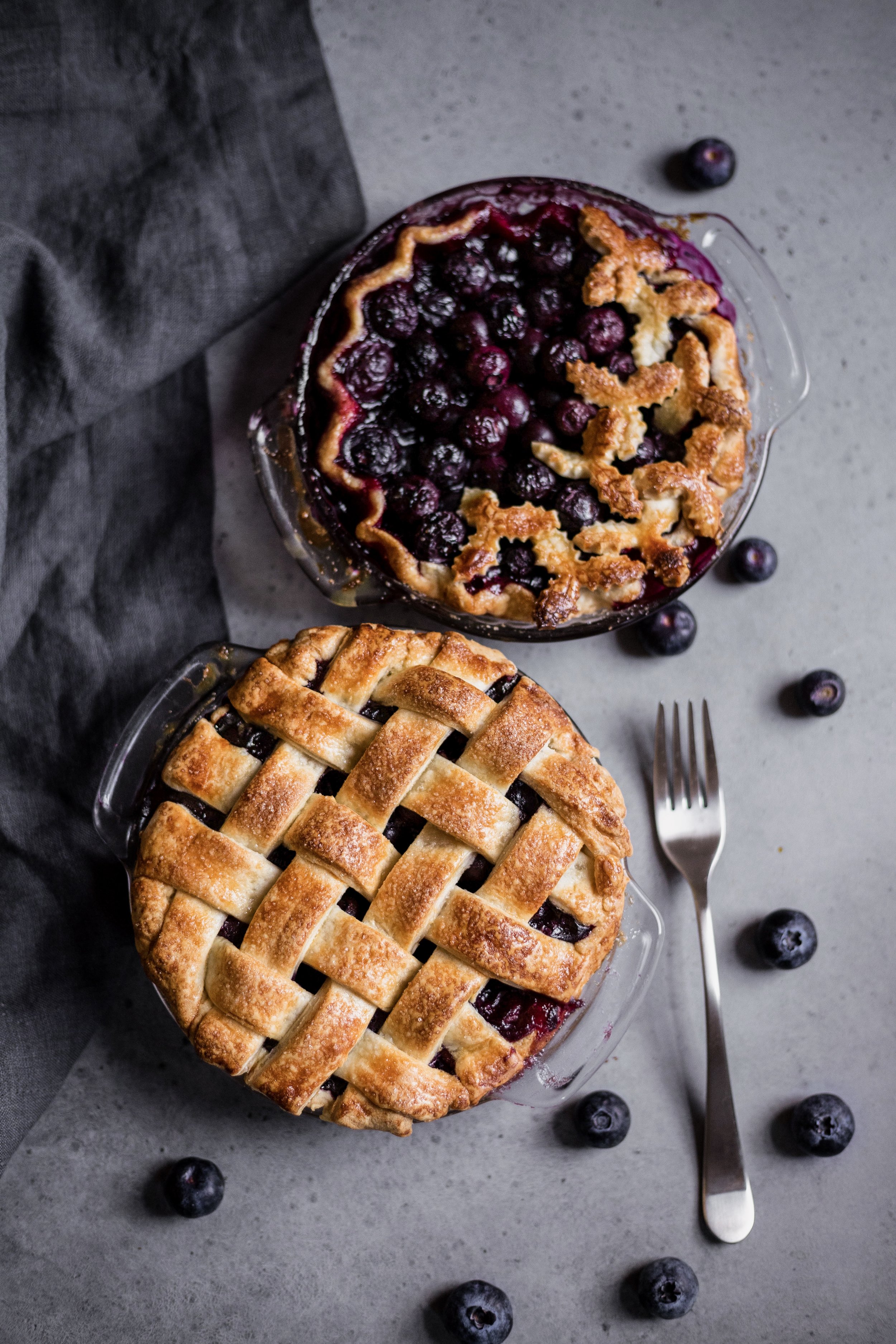 *This recipe makes two 6-inch blueberry pies*
Prep time: 15 mins
Cook time: 45 mins
Total time: 60 mins
Ingredients
1 package refrigerated pie crusts (contains 2 pie crusts)*

2 pints fresh blueberries

2 tablespoons lemon juice

2 tablespoons milk

2½ tablespoons cornstarch

½ cup dark brown sugar

1 teaspoon vanilla extract

½ teaspoon cinnamon

1 large egg, beaten (egg wash)

granulated sugar, for sprinkling
Instructions
Preheat oven to 425°F. Butter pie pans and set aside.

In a large bowl whisk together lemon juice, vanilla, and milk. Gradually add in the cornstarch and whisk until smooth. Stir in brown sugar and cinnamon. Add blueberries, and stir to coat. Let sit for about 5 minutes.

Unroll the pie crusts and fit into buttered pie pans, trim, leaving about a ½ inch overhang. Pour filling equally into prepared pie pans and top with pie dough braided into a lattice (optional). Brush the pie lightly with the egg wash and sprinkle sugar on top.

Bake on the lowest oven rack at 425°F for 20 minutes. Lower the oven temperature to 350°F and move the pie to the middle rack to continue baking another 25-30 minutes until filling is bubbling. Let the pie cool (and set/thicken) for at least an hour before serving.
Notes
Feel free to make your own pie crust using your favorite recipe if that's your thing 🙂
---
MikeBakesNYC LLC owns the copyright on all images and text and does not allow for its original recipes and pictures to be reproduced anywhere other than at this website unless authorization is given. If you enjoyed the recipe and would like to publish it on your site, please re-write it in your own words, and link back to my site and recipe page. Read my Disclosure page. This post may contain affiliate links.